Abstract
A try to rearrange primes in two lists based on their divisibility into sum or subtraction of squares with the aim of discovering new properties.
Introduction
Currently in the great building of mathematic science, many people work at high level to have a better understanding and link a plane to other planes. Other people work to consolidate the foundations, hoping to support a new higher level in the building.
Prime number can be resolved into a particular case of the form (a – b)(a + b) = a² – b², known in Italy by the name of
Prodotto Notevole
, Notable Product. The form for primes is (n² – (n – 1)²) = p, for example (3² – 2²) = 5. Please note that every prime, with the exception of 2, can be written as (n² – (n – 1)²).
Then we are trying to resolve the primes into sum of squares. It can happen with factors made by complex numbers, for example (2 – i)(2 + i) = 2² – i² = 4 + 1 = 5, or directly summing squares: a² + b² = p.
Finding two lists for primes
On loading this page, the code calculates every result obtained by the formula (n² – (n – 1)²) = p, continuously increasing the value of n variable, checking every result with the list of known primes up to 100000.
It is calculated too every result obtained by the formula a² + b² = p, continuously increasing the value of a and b variables, checking the result of every combination with the list of known primes.
This double way allows to identify all prime number up to 100000 and split the whole primes list in two separate lists,
Biresolvable Primes
that can be resolved into sum and difference of squares and
SuperPrimes
that can be resolved into difference of squares only.
Then, in each list, you can calculate the difference in value between the previous and the next prime of the same list and note that it is always expressible as 4n in which n is an integer. First number in each list, 1 and 3. Every other prime in the list is found with prime(current) + 4n = prime(next) with n being an integer. Nobody can calculate to infinite, my statement is an hypothesis.
But this method reaches some forms of which primes were searched for.
The form of the Twin Primes p, p+2 and the Sexy Primes p, p+6 never appear in the same list. Both lists show only p and p+4n.
Number 2, built with 1² + 1² only, shows a difference of 3 with the next prime 5. Claiming the rule of 4n, that appears after splitting the prime lists, number 2 does not have the characteristic for a nomination as a real prime number.
Number 2 is not built with the formula (n² – (n – 1)²) that generates every other prime in the list and, even in this case, it has no admission among the real primes.
Number 2 would be the only prime that, divided by two, produces two integers, but this appens because number 2, beeing the first even number, is just forced to a prime behavior.
Prime numbers seem to be not all equally prime.
SuperPrimes, that are resolvable into a difference of squares, can be considered as an area from a Pytagorean triangle in which the greatest number is the square of hypotenuse, the other numbers can be considered as the square of the sides and the prime number is one of them.
Primes that are also resolvable into a sum of squares, generated by complex numbers too, can be considered as the square of hypotenuse in a second Pytagorean triangle where the summed squares are built on the sides.
The figure shows how a biresolvable prime, such as 37, may be considered from a geometric point of view.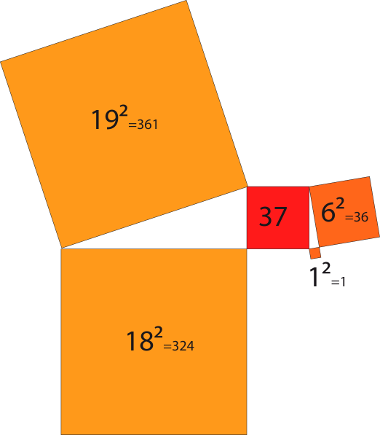 Primes are an expression of areas. There are endless points of contact between the one-dimensional sequence of numbers and the complex plane, it can also be inferred from Riemann hypothesis. A triangle is a two-dimensional figure that may be infinitely present in a plane.
Conclusion
Now we can assume as true the possibility of find a new prime number with the formula p(known)+4n, where n is an integer. This study shows an important common property of primes and open new roads for tests and ideas on each list of primes.
Notation
Observing the high level of competition in the scientific world, I spent a long time in trying to find evidences of a research like the one I did. I was thinking that my idea, check the primes divisibility into sums or subtraction of squares finding that the prime(next) = prime(known) + 4n formula, was too simple but I found nothing similar and so the only way to be sure about my work was to publish my research.
The lists generator code
This experiment is repeatable everywhere and always: Obviously we need a computer. The code I wrote is quite simple, it is written in php for a pubblication on the web but I am sure it can be written in every other programming language without difficulty. This code needs a list of known primes to build an array useful to verify every result of the calculations* and then follow the steps described in my study. Due to the limited power of my server, I calculate my results within the first 100000 numbers only.
*On having a high power computer, check the prime list array may be replaced by a primality test code and the search range can be expanded.
Emanuele Jaforte
ej@jaforte.it